Service365: Recycling solvent in the Flexible Packaging industry with no up front cost
The complete
solvent recycling service for Flexible Packagers.
Plant managers in the Flexographic industry know running a solvent distillation unit can be an organizational headache. Buying a unit is a huge capital expense, it doesn't reduce your waste as much as they said it would, and facility workers don't like operating them.
But none of that needs to be true. Over the past 10 years we've worked extensively with the Flexible Packaging industry to create a solvent recycling solution that is easy and inexpensive. With our on-site solvent recycling Service365 you don't need to worry about a capital expense. Our team provides ongoing maintenance and training whenever you need it. And we offer 24/7 monitoring and tracking no other company in the industry provides.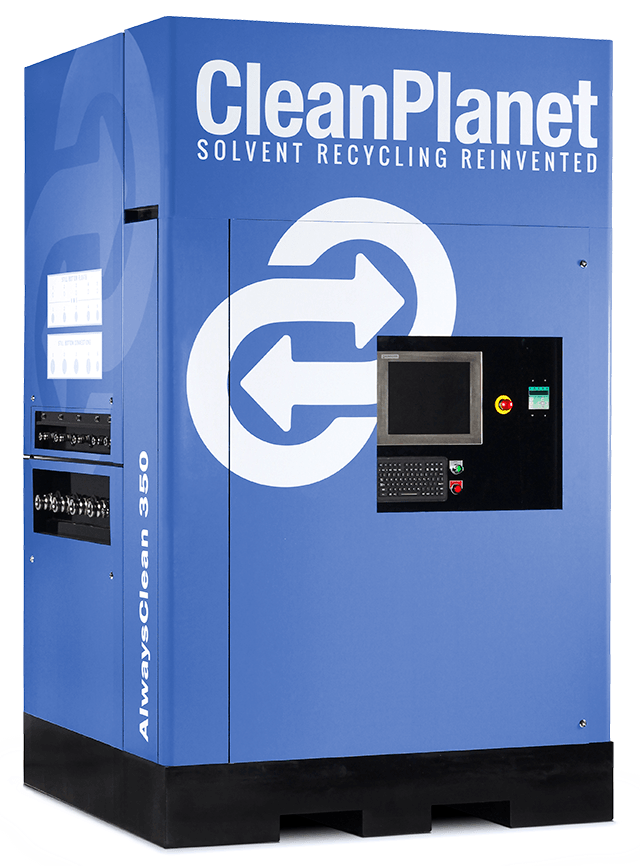 Reducing Flexible Packaging Waste and Costs
Save Big with a True Solvent Recycling Partner
A distillation unit is a huge capital expense for your company.  Money that is better allocated to the production side of your business.  And when you factor in the costs of ongoing maintenance, repairs, upgrades, and new training whenever there's personnel turnover, it's easy to wonder if you're even saving any money.
Now imagine not having to write the big check to buy the unit, or not paying for maintenance, and never paying for upgrades or even a new unit.
With CleanPlanet's solvent recycling service, the only expenses you have to worry about are the clean solvent our machine produces and much smaller waste disposal fees.
The only way we make money is if you're saving money. Which means we're here for the long haul. We have a vested interest in your machine performing at its best, every single day. In essence, we are a true solvent recycling partner helping you maximize your savings unlike anyone else in the industry.
What You Pay For
What You Don't Have to Pay For
What You Pay For
Clean, recycled solvent  – You pay a discounted price on the clean, virgin like solvent our machines produce.
Waste disposal – You'll still have to dispose of waste from the distillation process but you'll quickly realize those costs drop significantly because our machines are so effective.
What You Don't Have to Pay For
How our Service365 Solvent Recycling Service Works
Step 1: Evaluation
Our experts will talk with you about your process and solvent waste stream to determine which of our machines is the right match for your facility.
They'll also help determine where in your facility is the right location to best fit your current processes and maintain a safe environement.
Step 2: Installation & Training
After the CleanPlanet Chemical machine arrives at your facility, our technicians will install and optimize the equipment to your needs. We'll train multiple members of your team on how to use the machine and make sure the process is smooth and the machine is performing optimally before we leave.
Step 3: Ongoing Monitoring & Optimization
Our machines use our patented Precision Distillation process to recycle your waste solvent into clean solvent to use in your operation. Our team monitors your unit remotely to ensure it's operating at peak efficiency. If we spot an issue, we'll fix it right away.
Using our Athena online tracking system, you can see exactly how much clean solvent and waste your unit is producing and most importantly, how much you're saving.
Step 4: Maintenance, Repairs, & Upgrades
If, at any time, your machine needs maintenance or repairs, our technicians will take care of it at no cost to you. And if your production volume goes up, we'll upgrade your machine for free.
If you think this program could work in your facility contact us and one of our specialists will walk you through all the details and answer any questions you may have.
Discover Safer Solvent Recycling
Safety is the top priority in your facility and so we've built our distillation unit with more safety features than we could possibly list in this short paragraph.
Our units include 40+ sensors with redundancy after redundancy to ensure your solvent recycling unit is running efficiently and safely. Visit our safety page to learn how we keep your employees and facility safe while running our distillation units.
Frequently Asked Questions
With Service365 your only expense is the solvent. With this one of a kind program, you eliminate all maintenance and repair costs, which, as a unit ages, can amount to thousands of dollars annually in addition to the unit down time.
Plus, if you ever want to upgrade to a larger unit, it costs you nothing. And you have a long term partner who is incentivized to maximize your solvent recycling saving you additional money in waste costs.
Because you don't own the unit, it's as simple as swapping out your current machine for a new one that can handle your increased volume. We'll take care of setup and make sure your team is trained on operating the new machine
Purchasing the unit is an option. If you do purchase, you can also sign up for our maintenance and monitoring service. Our team will take care of all repairs and monitor your machine 24/7 to ensure it is running well.
Find out how much Service365 has saved other Flexible Packagers
Simply fill out our short contact form and a member of our team will reach out to help you decide if the Service365 program is a good fit for your facility.