Unlock Your Solvent Recycling Data with MyCleanPlanet
Ever wonder if you're solvent recycling is actually saving you money? Or if your solvent recycler could be producing a higher yield? Without the proper data it's impossible to know the answers to these and other important questions you may get from your management team.
However, with CleanPlanet's smart solvent recyclers and the MyCleanPlanet data tool you'll finally know the answer to every detailed question you've ever wanted to ask.
Discover how valuable MyCleanPlanet is and how it can help you save money.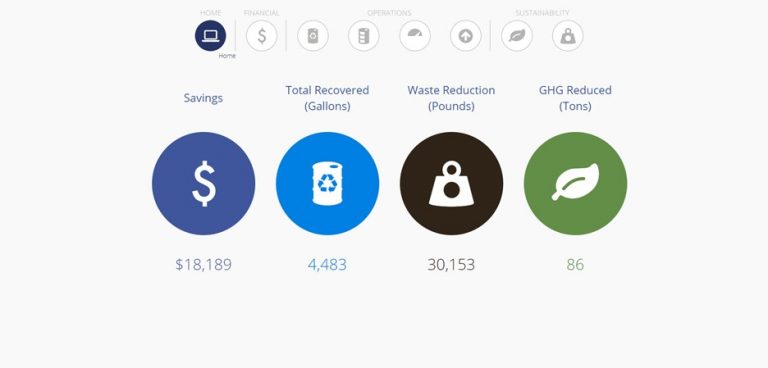 Bringing data & analytics to solvent recycling
MyCleanPlanet is our proprietary web tool that captures data from our smart solvent recyclers. You see, every one of our recyclers is loaded with over 40 sensors that continually feed data to the onboard computer.
That data is then transmitted via cellular signal to the cloud where you can review it at any time using MyCleanPlanet.
What this means is you'll finally know exactly how efficient your solvent recycling process is. You'll know how much solvent you're recycling and how much money you're saving with every cycle.
So when your boss asks how your recycling program is going you can prove its value in just a few clicks.
This also means our team can continually monitor your machine to ensure it's maximizing yield and running at peak performance.
Take a tour of MyCleanPlanet and see what you're missing.
Discover What MyCleanPlanet Can Tell You
There are three critical things MyCleanPlanet can do with the data we collect from your solvent recycling machine.
First, deliver SMS and email alerts when the unit needs attention. Such as when a cycle has finished or the still bottom drums are full.
Second, optimize and troubleshoot your unit. Data from your machine is analyzed by our team to ensure your machine is running at peak performance. With this data we're able to quickly see if your unit has any issues. If anything is found it can be resolved quickly.
Third, it provides visibility on a number of important metrics such as:
Total Savings: The amount of money you've saved by using CleanPlanet technology instead of purchasing virgin solvent and disposing of the waste.
Recovered Solvent: The amount of clean, recycled solvent the unit has recovered from your waste.
Processed Solvent: The total amount of waste solvent the unit has processed.
Yield: The amount of solvent recovered for each unit of waste solvent processed.
Up-time: The percentage of time the unit is processing out of total available operation time.
GHG Emissions: The amount of GHG emissions that have been reduced by using CleanPlanet technology.
Waste Reduction: The amount of hazardous waste that has been reduced by using CleanPlanet technology.
Want to learn more about MyCleanPlanet? Contact us and one of our team members will give you a demonstration.
Simply fill out our short contact form and a member of our team will reach out to share more about MyCleanPlanet and help you decide if the Service365 program is a good fit for your facility.