Protect Your Employees with Safe Solvent Recycling
Maintaining a safe facility is one of your top priorities.
Which is why safety is the core component of our solvent recycling units. Our team of engineers have incorporated multiple redundancies, 40+ sensors, and a VMX Vapor management system that eliminates VOCs into every one of our machines.
We also provide 24/7 remote monitoring which allows us to see the smallest issue and address it before it becomes a bigger problem. Discover just what makes CleanPlanet solvent recycling units some of the safest in the industry.
Recycling Solvent Done Safely
The first step in ensuring safe solvent recycling is to audit your solvent waste. Our team will ensure our machines can handle the chemicals you use and recycle it effectively. Once we've determined that's the case, we'll visit your facility.
One of our Technicians or Account Managers will walk your facility with you to examine your processes and identify the safest equipment location. We conduct an Installation Preparation Meeting to discuss safely connecting the utilities for the unit and the safe management of the feed and clean material.
Once the unit is in place we have a strict, "don't move" policy without first consulting us about it to ensure we maintain safe practices.
Once your unit is installed, we perform staff training to ensure your team members know exactly how to use the equipment. We observe them operating the equipment to ensure they have a complete understanding of how to safely operate the system.
We won't leave until they feel confident using the equipment. And when you have personnel changes, we'll take care of training them too.
You don't have to take our word for it. You can trust your recovery unit will perform safely, because every one of our models is inspected and certified by a Nationally Recognized Testing Laboratory to operate in all Class I Div I hazardous locations. 
24/7 Monitoring & Maintenance: Keys to Safer Solvent Recycling
Take one more thing off your plate as our team monitors your equipment remotely 24/7 via notifications and alerts.
With over 40 sensors in our solvent recovery units, we're able to monitor the recycling process in a way no one else can. This allows us to take action immediately, before anything becomes a problem.
A well maintained unit is a safer unit, which is why our technicians take care of all routine and preventative maintenance.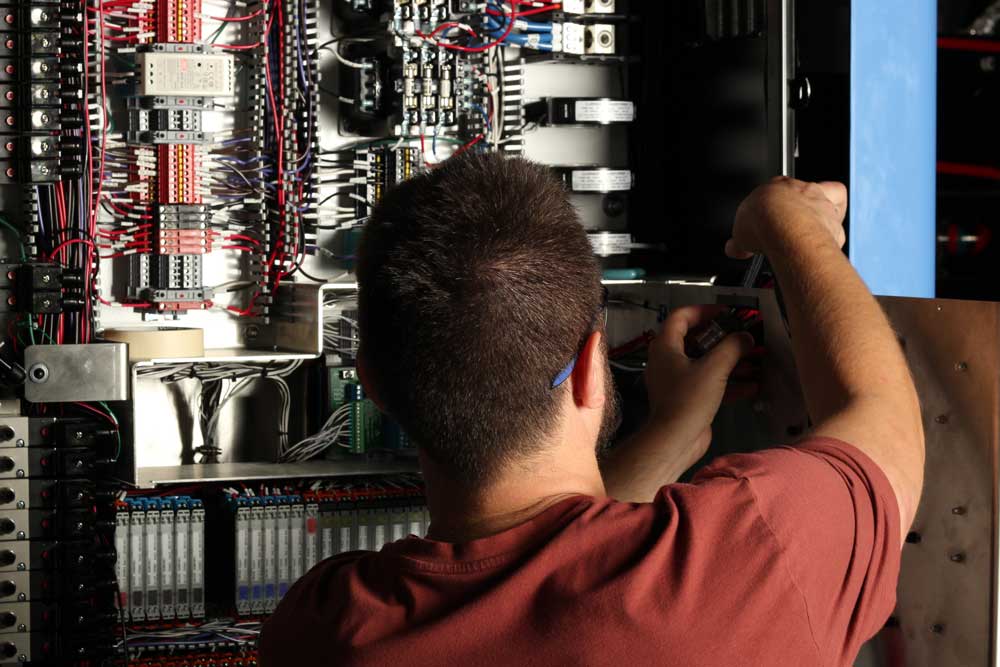 Solvent Recycling Safety Features You Can Depend On​
We stand firmly by our commitment to keeping your employees and your facility safe when using our solvent recycling system. From the design of our machines to the way we do our employee training, safety is a core component.
Discover some of the key safety features of our equipment and service below:
Vacuum operation, integrated, secondary containment, and our VMX Vapor Management technologies mean no VOC losses, no hot, dirty chemicals or pungent vapors come in contact with employees or permeate the work area.
All sensors and safety components have built in redundancy. If a primary component fails, the backup system will continue to function and a notification is automatically sent to our Technical Team.
One of our technicians will then come out to replace the primary component.
All nitrocellulose units are vacuum enabled (lower operating temp), monitor for temperature in multiple locations to ensure the unit stays below the critical temperature for nitrocellulose, safe pressure release, audible alarm, and an autoquench system.
These systems provide an extra layer of safety for those processing waste with nitrocellulose.
Liquid levels, temperature, and pressure are constantly monitored for abnormal conditions.
If an error occurs, the operating system will place the recycler in a safe, cool-down mode and alert your team and our technicians.
If your equipment isn't performing perfectly then it isn't performing safely.
We manage all maintenance (preventative and otherwise) to keep your equipment in perfect shape.
We train and certify your staff on-site, ensuring they are experts in using the equipment safely and efficiently.
Explore the Technical Safety Details of our Solvent Recycling Units
If you want to get into the technical details on how we build a safer solvent recycling unit this is for you. Our team of engineers is constantly working to build safer machines that deliver higher quality recovered solvent.
These added safety features will protect your team and give you the quality solvent you need.
Discover just how much you could save by switching to CleanPlanet's Service365 program.
Simply fill out our short contact form and a member of our team will reach out to help you decide if the Service365 program is a good fit for your facility.